Dr. CEO
Louise Bay
Release Date: August 31
FREE IN KINDLE UNLIMITED
My life was simple until Vincent Cove, an (annoyingly hot) American billionaire, arrived. He wants to convert the stately home where I live and work into a glitzy hotel.
Over my dead body.
I'm just a small-town girl, up against Vincent's goliath fortune, but I won't go down without a fight. I'm taking on this billionaire bulldozer.
If I'd known his plans I definitely (maybe) wouldn't have slept with him. And I'm determined to ignore the chemistry growing between us.
Except his charm is distracting, his persistence is irritating and his forearms, sharp jaw and devilish smile are downright infuriating.
At least I don't have to worry about him sticking around. A self-confessed rolling stone, he can't commit to a lunch order before noon, so there's no way he'll hang around long enough for me to fall in love with him.
A standalone, enemies to lovers, small town romance.
Grab Your Copy!
Meet Louise Bay: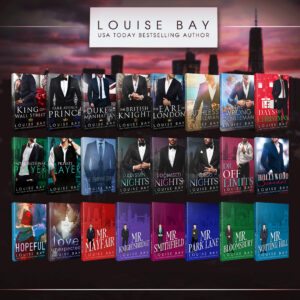 International, Wall Street Journal, and USA Today bestselling author, Louise Bay writes sexy, contemporary romance novels – the kind she likes to read.
Ruined by bonk-busters and sexy mini-series of the eighties Louise loves all things sexy and romantic. There's not enough of it in real life so she disappears into the fictional worlds in books and films.
Louise loves the rain, the West Wing, London, days when she doesn't have to wear make-up, being on her own, being with friends, elephants and champagne.
She loves to hear from readers so get in touch!
Keep up with Louise Bay and subscribe to her newsletter: https://louisebay.com/newsletter/
To learn more about Louise Bay& her books, visit here!
Connect with Louise Bay:
https://louisebay.com/contact/
Hosted By:
My Review: ****
Dr. CEO by Louis Bay is about the Cove cousin, Vincent, who decided he made a better CEO than a doctor. We met his cousins in the following books: Tristan and Parker, Mr. Notting Hill; Nathan and Madison in Private Player; Jacob and Sutton in Dr. Off Limits; Zack and Ellie in Dr. Perfect; and coming soon, Beau and Vivian in Dr. Fake Fiance. Vincent is the American Billionaire Cousin.
Kate Saunders works at the Crompton Estate in the tea shop and at the pub as a waitress a few nights a week. She is a small-town girl who has lived at Crompton Estate since age seven and has an issue if she leaves the premises. Their chemistry is off the charts, but he is disrupting her life.
This Doctor series is so entertaining!
Please follow and like us: